The holiday season is upon us, and it's time to deck the halls with festive decorations. While store-bought decorations can be expensive, making your own DIY Christmas decorations is a budget-friendly and creative way to bring holiday cheer to your home. Whether you are an experienced DIYer or a beginner, the following ideas are easy to put together and will add a personal touch to your holiday decor.
DIY Christmas Wreaths
A wreath is a classic Christmas decoration that can be customized to match your personal style. One of the easiest wreaths to make is a grapevine wreath, which can be found at most craft stores. Simply wrap a string of battery-operated lights around the wreath and add a bow made of ribbon, burlap, or fabric. You can also add pinecones, holly berries, or other natural elements to the wreath for a rustic touch. 
Another popular wreath option is the evergreen wreath, which can be made by tying together a bundle of fresh greenery, such as cedar, pine, or holly. Finish the wreath by tying a ribbon or bow around the base and hanging it on your front door or above your fireplace.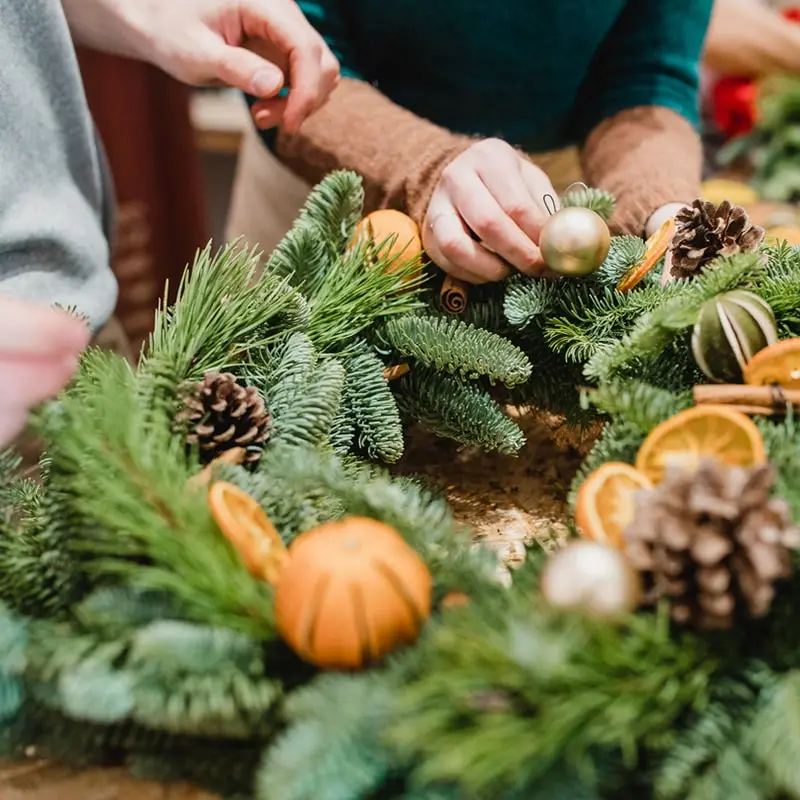 DIY Christmas Ornaments
Christmas ornaments are an easy way to add a personal touch to your tree. Homemade ornaments can be made with simple materials such as paper, glass balls, and paint. One popular option is to create paper ornaments by cutting out festive shapes such as snowflakes, stars, or gingerbread men and decorating them with glitter, stickers, or paint. These ornaments can be hung on the tree using ribbon or a fishing line.
Another fun DIY ornament is a melted crayon ornament. Simply remove the wrapper from several crayons and place them in a glass ball ornament. Place the ornament in a 200-degree oven for a few minutes until the crayons melt and fill the ornament. Let the ornament cool, then add a ribbon for hanging.
DIY Christmas Centerpieces
A festive centerpiece is a great way to add holiday cheer to your dinner table or mantle. One easy DIY option is a candle centerpiece, which can be created by arranging several candles of different heights and colors on a mirror or tray. Surround the candles with sprigs of fresh greenery, such as pine or holly, and add a bow for a pop of color.
Another DIY centerpiece idea is a mason jar centerpiece. Fill a mason jar with holiday goodies such as Christmas lights, candy canes, or ornaments, and add a ribbon or bow around the neck of the jar. Group several jars together for a colorful and festive display.
DIY Christmas Stockings
Customize your own Christmas stockings to match your holiday decor by using a plain stocking as a base and adding your own creative touches. Use fabric paint, markers, or even pom poms and sequins to create a one-of-a-kind design. You can also personalize each stocking by adding the recipient's name using iron-on letters or fabric markers.
DIY Christmas Garlands
Garlands are a great way to add a pop of color and holiday cheer to any room. One easy DIY option is a popcorn garland, which can be made by stringing popcorn on a length of fishing line. This traditional garland is a fun activity for the whole family and can be hung on the tree or across a mantle.
Another DIY garland option is a pom pom garland, which can be made by tying pom poms in your desired colors and sizes onto a string. You can make the pom poms yourself or purchase pre-made ones from a craft store. This garland adds a fun and playful touch to any room and can be hung along the mantel, above the windows, or along the staircase railing.
DIY Christmas decorations are an affordable and creative way to bring holiday cheer to your home. From wreaths and ornaments to centerpieces and garlands, there are many easy and fun projects to choose from. So, gather your supplies, get your family involved, and start making your own unique and memorable holiday decorations. Happy holidays!